With customers!
With region!
As a result of promoting the entry to securities business for the activation of the regional financial industry and capital markets,
BNK Investment & Securities is now providing
high-quality financial services to the customers by adding securities business to the existing
currency / commodity futures business with
final authorization of securities business
in November, 2009.
CEO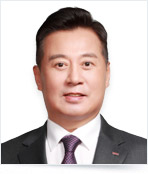 BNK Securities CEO
Kim, Byung young
Greeting
Good morning! All employees of BNK Investment
& Securities promise to do the best and ask
for continuous interest and encouragement of
the customers in order that
BNK Investment Securities Company may be
the leading investment
company which gives the confidence and
satisfaction to the customers.
Business Career
2012

Hyundai Securities Retail & WM Divison, Managing Director<

2013

Hyundai Securities Managerial Service, Managing Director

2015

Hyundai Savings Bank Management Strategy, Vice President

2017

KB Securities Business Management, Vice President

2019

KB Savings Bank General Sales, Vice President

2019

Present BNK Securities, CEO