With Clients! With Community!
BNK Venture Capital will try our best to become
a venture asset management company that
can satisfy our shareholders, lenders, investment
companies, executives and employees
as our partner and continue to grow.
Our investments are focusing on new growth
engine industries supported by the government
including related parts & globally competitive
industries such as Mobile phones,
LCD TVs, Semiconductors.
CEO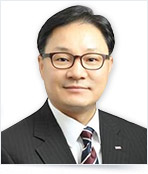 BNK Venture Capital CEO
Kim, Sang-Yun
Hall!!
We will try to become a Venture Investment
Company that contributes to the development of
the national economy by discovering, nurturing and
supporting competitive unlisted ventures
companies, and invests fairly based on rational and transparent management principles.
Business Career
1986

Passed Administrative Exam.

2014

President, Audit and Inspection Training Institute of BAI

2016

Audit, Samsung Fire & Marine Insurance

2018

Vice President, BNK Financing Group

2022

CEO, BNK Venture Capital